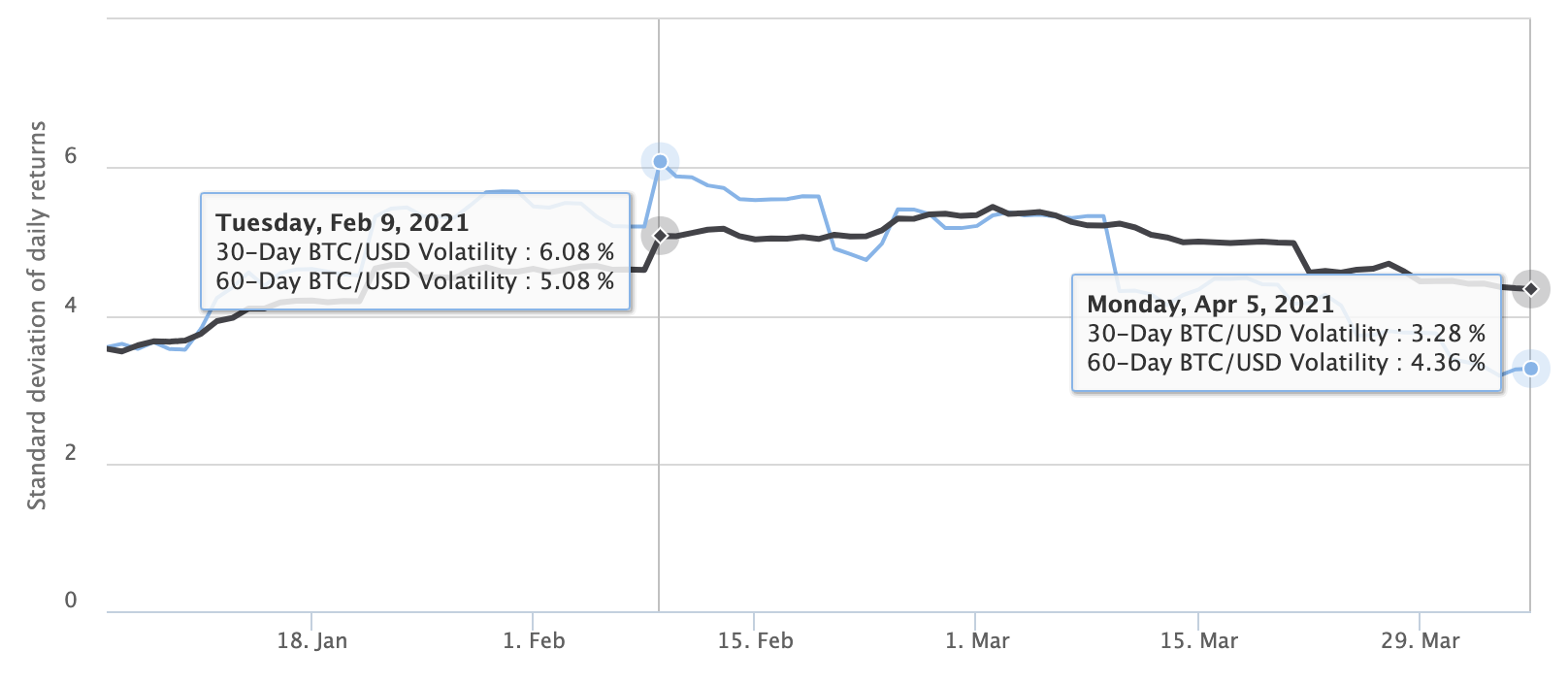 Low Volatility Affirms $130,000 Bitcoin Target, Says JP Morgan Analyst
According to JP Morgan, a less volatile Bitcoin would open the gates for a new influx of institutional capital, setting BTC up for an upswing to $130,000. 
Institutional Demand Rises, Volatility Decreases
Bitcoin's volatility has been in a downtrend over the past two months. The 30-day realized volatility plummeted by 46% to hit the lowest levels since December 2020, while the 60-day realized volatility dropped by 14.20% to hover at 4.36% currently. 
Even though cryptocurrency enthusiasts may see BTC's decreasing volatility as a bad sign for the probability of profit, institutional investors could find such market behavior appealing. 
According to Nikolaos Panigirtzoglo, Managing Director at JP Morgan, institutions would be more interested in Bitcoin as its volatility continues to decrease because it becomes a less risky investment. 
"In our opinion, a potential normalization of Bitcoin volatility from here would likely help to reinvigorate the institutional interest going forward," said Panigirtzoglo.
The JPMorgan strategist also maintains that a tamed Bitcoin would have a better chance of capitalizing on the declining demand for gold and its related financial products. Panigirtzoglo believes that BTC could emerge as an "alternative currency," which could set it on track to "match the total private sector's investment in gold." 
If this were to happen, the analyst reaffirmed that the pioneer cryptocurrency would reach $130,000. 
Bitcoin Is Primed for Further Gains
When looking at Bitcoin's Entity-Adjusted Dormancy Flow (EADF), Panigirtzoglo's bullish target seems reasonable. 
This on-chain metric considers the ratio of the current market capitalization and the annualized dormancy value to determine whether BTC's bull market remains in relatively normal conditions. 
Each time the EADF has moved above the 1 million threshold since 2011, Bitcoin's price tends to go parabolic. Such market behavior was seen in mid-April 2011, late July 2012, and early December 2015. 
After this on-chain metric moved past the 1 million mark, BTC's market value surged by a whopping 2,944%, 17,720%, and 5,342%, respectively. 
Though Bitcoin's price has tripled since it broke through $20,000 in mid-December 2020, the EADF suggests that a new parabolic advance would occur once the 1 million threshold is overcome.
Disclosure: At the time of writing, this author owned Bitcoin and Ethereum.
Go to Source
Author: Ali Martinez